Ah, yes :)
So first off, we can not take credit for this awesome, mouth-watering idea.
We were actually sent the photo by another awesome mama & after seeing it..just had to do...and after doing it..just had to share it :)
To see where we got it from and check out other awesome recipes, visit
Gingerbread Bagels
:)
Mk, here we go!
Okay, what you'll need: Strawberries, butterfingers, chocolate chips, and...we added a banana :)
Melt your chocolate chips in the microwave or on the stove, and while that's going, crush up your butterfingers.
Gingerbread Bagels used a food processor...we don't have one...so i used a hammer 8)
Okay, everything's ready.
Next, dip your fruit in the chocolate, and then roll it in the crushed butterfinger.
I used toothpicks.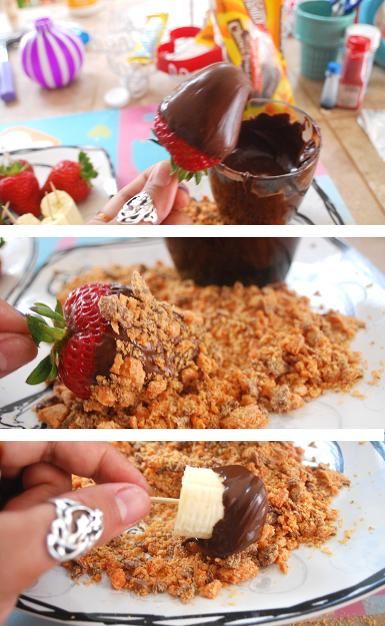 Mmmm..good. let it set [you can put it in the fridge to speed up the process]
All done!
Here's the banana
Annnd the strawberries!
So. good.