So, usually we like to do all original baking ideas,
but...seeing this featured on a youtube video, we had to do it.
Cos, yes, we love cake batter...and, we love rice crispy treats.
How could this go wrong?
What you'll need/melt up the butter [3 tlbs] with the marshmallows [10 oz of minis]
Oh shoot.
my photos are out of order :(
Okay, you need to switch the steps a bit, just, the first photo, is actually the last :D
You add about 1/4 cup prepared cake powder, and add in some rainbow sprinkles
Then stir in the 6 cups of Rice Crispy cereal.
This next part is optional, but, you should probably do it ;)
Add more sprinkles to the top, just for some more color,
then melt your milk chocolate chips and drizzle it on top.
Let it set, and VIOLA! you're done!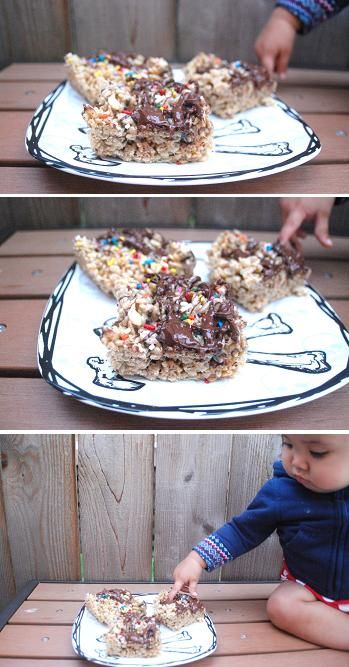 To be honest, we couldn't really taste the 'cake' part
[ohhh so THAT'S how it could go wrong],
so maybe add a bit more than what we did from the way we saw it done :D
but either way- how could you go wrong with rice crispy treats!!